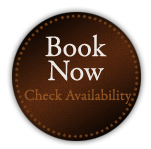 HONEYMOON SUITE
NOW OFFERING A KING SIZE BED
FOR JUST THE TWO OF YOU! Up a few stairs and across the bridge into your private domain. A very spacious room featuring Moroccan decor, a King Bed, Large TV with DVD/VCR, microwave and refrigerator. Bathroom is something you will never forget. VERY LARGE jetted tub filled by a waterfall. The curved river rock shower is so large you cannot touch both sides at the same time. The middle shower head is a waterfall. A very romantic feeling unlike anything you have ever experienced. The only thing disappointing is that someday you will have to leave.
PRICING
255 + tax/ 265 + tax Fri. - Sun.
Holiday rates may differ.